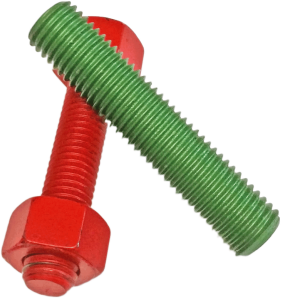 At Motorcool we offer Xylan coating facilities. Xylan coatings offer protection for metals reducing friction, improve wear resistance, and for non-stick applications. It also offers protection for metals from corrosion.
Xylan coating has great beniftits for the automotive industry and for corrosion protection in the oil and gas industry.
Xylan coatings offer the following benetis…
Controlled torque – PTFE content allows precise and uniform makeup torque
Easy removal of nuts – even after many years
Resistance to rust / corrosion – almost equal to that of stainless steal
Resistance to galvanis corrosion between different types of metals
Eliminates the need for toxic lubrication paste
Tough – excellent resistance to wear, abrasion and chipping
Cost – save an average of 50% over stainless-steel fastenings
Wide range of operating temperatures – from -255 degrees to +290 degrees
UV stable, resistance to hot soil and ideal for colour coding
FDA acceptable
We offer a range of colours and finishes.
Please contact us to discuss your Xylan coating requirements.